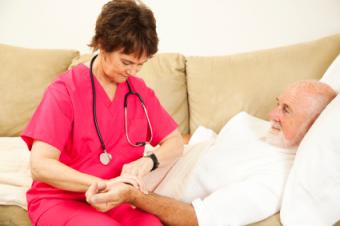 There are many reasons why a nurse needs a reliable timekeeping device. A nursing watch is essential for procedures such as measuring pulse rate or taking blood pressure. Accurate timekeeping is also necessary for giving medicine at set times, as well as giving regular treatments on schedule.
Components of a Good Nursing Watch
There are many important attributes to look for when shopping for a nursing watch. Consider your purchase carefully to ensure that any watch you purchase has all the features you need and serves you well for years.
Keeps Good Time
Busy nurses don't have time to spend making sure their watch is keeping good track of time. It's important to choose a watch that doesn't require winding, or that don't "lose time". Some examples of watches that keep time with military precision without winding include:
Nurse Mates Basic Watch - This oversized, unisex watch has a black silicone band and shows both standard and military time. It retails for about $30 at AllHeart.
Casio Woman's Sport White Resin and Plastic Watch - This multi-function watch features Japanese quartz precision, along with an easy-to-clean band. It shows standard and military time as well as the date. It retails for about $18 from Amazon.
Easy-to-Read
Not only does the watch need to keep excellent time, it also needs to be easy-to-read. Look for an oversized watch with highly visible minute and second hands. Ideally, the watch should keep time in a few ways, showing seconds, standard time and military time. This will ensure that you'll have no trouble keeping track of time no matter what the procedure you are doing or policy you are following. Examples to consider include:
Nurse Mates Pizza Dial Water Resistant Watch - This very easy-to-read watch features an oversized display. It also counts down seconds in groups of five by color with a rainbow of "pizza slices" to easily keep track of time. It has an easy-to-clean silicone band as well. It retails for about $35 at Scrubs and Beyond and Amazon.
Prestige Braided Band Nursing Watch - This easy-to-read watch features an oversized display, along with alternating black and red second marks. The marks change color every 15 seconds to help you keep track of time easier. The watch has a braided, silicone band. It retails for about $23 at Uniform Advantage.
Hygienic
Hygiene is also an important factor. It is essential that the watch does not harbor germs. Look for watches that have bands made of silicone, plastic or metal, rather than leather, which can harbor germs. Consider a watch that is water-resistant or waterproof so you can submerge it for easier cleaning. Some good examples of this include:
Prestige Medical Unisex Sportmate Watch - This colorful watch comes with an easy-to-clean silicone band and a durable, easy-to-clean plastic case. It's water resistant and available in nine different colors. It retails for about $30 from AllHeart.
Nurse Mates Mini Dots Jelly Watch - This fun, water-resistant watch features a hygienic jelly band with playful dots covering it. It has a dimensional dial to help keep time and retails for about $30 from Uniform Advantage and Amazon.
Fob Watches
Nurses have traditionally worn a fob watch on the pocket of a tunic or uniform. This type of watch hangs down from the pocket and appears to be upside down. However, when it is lifted up to read it is facing the correct way. Some hospitals require nurses to wear this style instead of a wrist watch for hygiene reasons. Examples include:
Value Pack Silicone Nurses Fob Watch Heart - This fun silicone, heart-shaped watch comes with 10 different silicone skins, so you can change the color of your watch to match your scrubs or your mood. It attaches with a brooch pin and is water-resistant. It retails for about $55 from Nurse O'Clock.
Prestige Medical Nurse Lanyard Watch - This military time watch hangs from a lanyard so you don't need to worry about pins or about it coming loose. It's easy to read hanging upside down around your neck and allows you to change the lanyard anytime you desire. It retails for under $25 from Wayfair and Amazon.
Great Gift Idea
Professional nursing watches make great gifts, perhaps for a nurse who has just passed exams or to mark a promotion. The watch can be engraved on the back with a few special words to make this a very thoughtful and personal gift that will be remembered for years to come. Many watch stores and jewelers provide an engraving service for a very reasonable cost. Keep in mind that not all watches can be engraved, particularly those with silicone skins on the back.
Invest in a Good Watch
Professional watches for nurses need to combine many features, and should give years of wear. A good, accurate watch is an important part of a nurse's day-to-day equipment. Invest in a good nursing watch to ensure you can continue to provide quality care, right on time.