Necklaces done with message charms are a popular trend among women of all ages. These cute necklaces can be found with a variety of sayings and designs and can hold special meaning to those wearing one. From simple to elaborate designs, there are message necklaces available in a range of prices making them an option for everyone to consider.
Places to Find Necklaces with Message Charms
Due to the popularity of necklaces with message charms, many stores carry a selection of this style. Visit local jewelers or check the fashion and fine jewelry departments of your favorite stores, including Kohl's and Nieman Marcus. You can also shop online to find the best deals and selection of necklaces. A few places to shop include:
Heart and Stone Jewelry
Heart and Stone has several message charm style necklaces. All crafted in recycled sterling silver, these necklaces are unique creations. Some styles to check out are:
Love.Hope.Faith Charm Necklace: Done with the inspirational message of love, hope and faith, this necklace has a heart symbol in addition to the word charms. It is priced at $165 and can be inscribed on the back with an additional message for an added fee. A percentage of the proceeds of this necklace is donated to the Joubert Foundation.
Breathe Necklace: Created to raise money for Cystic Fibrosis Research, this necklace is done with a round pendant inscribed with the word breathe. It can be done with an adjustable leather strap for $100 or on a sterling chain for $125.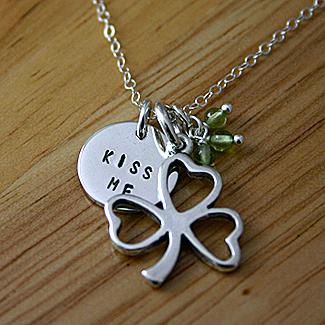 Charms Charms
Charms Charms carry a great selection of charm necklaces with words. All styles are done in sterling silver and priced at $10 each. Charms can be worn on a necklace or bracelet. The chain is not included with the charm but can be bought separately. Some charms to consider include:
Live, Love, Laugh Charm: This charm has the three words live, love and laugh stacked on top of each other in a fun style.
Courage Charm: This charm is a small silver heart with the word Courage written across the center.
Best Friends Forever Charm: This charm is done in the shape of a text message box and has the initials bff written across the center. It is a lovely example of a friendship pendant.
Peggy Li
Peggy Li charm necklaces are unique and fun to wear. They are all handmade and have been seen on television shows such as Private Practice and featured in Lucky magazine. Some message charm necklaces from Peggy Li include:
Loved Charm Necklace: Priced at $49, this necklace has a handmade Loved charm done in your choice of metals. You can choose from a chain length of either 16, 18 or 20 inches long.
Custom Word Necklace: For $49, you can choose words up to eight characters long for the pendant. Submit your own word and it will be created in a cursive style. Pendants can be done in sterling silver or 14K gold-filled.
Zales
Zales carries several styles of message pendant necklaces. A few popular styles to check out are:
Dream Simulated Birthstone Pendant: Done in your choice of 10K white or yellow gold, this necklace has a simple disc pendant with the word dream engraved in a block font. It has a single birthstone of your choice as an accent to the pendant. In addition to the word dream, this necklace can be done with make a wish or peace as well. This necklace comes with a rope chain and is priced around $255.
LOVE Script Pendant: Set in 10K white Gold, this necklace is priced around $340 and has the word love written in lowercase script. It comes with an 18-inch chain.
Create Your Own Design
If you do not find a message charm necklace style that suits your needs, you can always opt to create your own design. Many jewelers offer engraving allowing you to add a message to a necklace of your choice. You can also order custom charm necklaces that give you the option to create your own message that will be added to a charm.