Gemstone Bling
Gemstone lockets are stunning pieces of jewelry that hold special secrets and a bit of sparkle. While a plain locket can be attractive, the extra glitter from gemstone accents can add symbolism and beauty to any shape or style of locket.
Click on any locket photo for retail information.
Simple Solitaires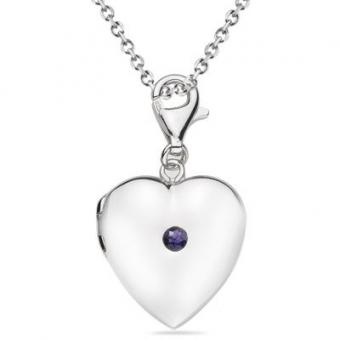 Buy Now"
A plain, simple locket only needs a small gemstone accent to magnify its beauty without detracting from its simplicity. A single gemstone in the center of a plain heart shaped locket is classically gorgeous, and you can select your birthstone or a gemstone with another type of symbolism.
Pearls and Gems
Buy Now"
Multiple diamonds, gemstones, or pearls scattered over the surface of a quilted-style locket help define the texture of the locket and give it added sophistication. A colorful gemstone in the middle adds interest and beauty to the piece.
Book Lockets
Buy Now"
Judging a book by its cover is easy when it's a book locket with a cover enhanced by gemstones. Different colors of gems can be used for a colorful piece of jewelry, or the same gems can be used for an elegant design.
Heart Shaped Lockets
Buy Now"
A heart shaped locket is a romantic pendant made even more beautiful when the center of the locket is a heart-shaped gemstone. Birthstones are popular for this type of locket, or the gemstone may be your favorite color or stone.
Pave Locket
Buy Now"
A pave-set gemstone locket is one tremendous glittering piece of jewelry. Fine diamond chips or crystals coat the surface with beauty and make it a stunning accessory.
Keep in mind that these gemstones can be easily dislodged or lost if the pendant is worn frequently.
Interchangeable Lockets
Buy Now"
Some gemstone locket designs offer flexibility through interchangeable gems that can be inserted into the locket to change its color. This is great for a piece of jewelry that you want to wear frequently without clashing with other jewelry or clothing.
Steampunk Locket
Buy Now"
A steampunk locket with a dark colored gem, such as a garnet, is a great modern twist on a vintage look. Steampunk lockets are often round and feature small elements like gears or other designs.
Inlaid Gems
Buy Now"
Faceted gemstones aren't the only choices for a gemstone locket. Tumbled gems are equally stunning, and some lockets are even made with inlaid gems such as mother of pearl, turquoise, jade, or tiger's eye. These inlays give the locket a smooth, sleek look.
Intertwined Hearts
Buy Now"
For a romantic piece, opt for a heart-shaped locket with intertwining circles made from ruby and diamond gemstones. The circles symbolize eternal love, and consequently, the locket makes a lovely gift for your significant other.
Large Gemstone Lockets
Buy Now"
Filigree patterns encrusted with gemstones have an antique look that is popular. The gemstone accents on these types of lockets can continue on the pendant's loop or clasp and may even be part of the necklace chain in very elaborate designs.
Interior Gemstones
Buy Now"
Not all gemstone lockets have colored gems on the outside of the locket. The Loving Family locket design features an open heart pattern with two stylized parents, and loose gemstones can be inserted into the locket to represent the entire family. This is a particularly popular locket design for mothers and grandmothers.
Unique Lockets
Buy Now"
A locket doesn't have to be in a typical shape such as a heart, oval or square. Elaborate, artistic designs will incorporate different gems, shapes, and sizes, and may even carry the gemstone on the inside, for beautiful, wearable works of art.
Need more ideas for the perfect locket?