Conversation With Found Object Jewelry Artist
LoveToKnow welcomes jewelry artist and sculptor Lynette Andreasen to discuss designs in this found object jewelry interview. Lynette takes a found object or an heirloom piece and makes a new piece of art jewelry that honors its history.
Introducing Jewelry Artist Lynette Andreasen
Based in Mesa, Arizona, Lynette Andreasen is a jewelry artist, sculptor and Artist Resident at the Mesa Art Center. She has also taught metalsmithing classes at Arizona State University and Phoenix Center for the Arts. She received her Bachelor of Fine Arts and Masters of Fine Arts in Metal and Jewelry from Arizona State University. Her art has been shown at art galleries throughout the United States and published in publications, such as Lark Publications' 500 Necklaces book.
Found Object Jewelry Interview with Lynette Andreasen
LoveToKnow (LTK): When did you know that you wanted to be an artist?
Lynette Andreasen: As a child, arts and crafts were always my favorite pastime. My mom used to have craft parties for me and we would invite all our friends and neighborhood kids. It was so fun. Unfortunately I didn't really see it as a career choice until much later in life. I started college as a political science major with intentions of moving on to law school. It turned out that I hated political science. Browsing the college catalog one day, I found out that the university offered jewelry courses. They wouldn't let me enroll unless I was an art major, so I switched with intentions of changing again later. I never changed. Once I had that first jewelry class, I was hooked.
Inspirations and Jewelry Techniques
LTK: What generally inspires you to create jewelry?
Andreasen: Initially I was drawn in by the materials. Working with metal was challenging but also incredibly rewarding. Still today, I am totally seduced by materials. The metal itself, found objects, pearls, stones - I just get the materials in my hands, and in those materials I see things start to take shape. I feel like I have to make them come to life.
LTK: What other types of jewelry do you create?
Andreasen: In addition to the jewelry I create out of found objects, I also make more functional, everyday jewelry. It's fun to experiment with new techniques and make pieces based purely on design rather than having them conform to the ideas I use in the rest of my work.
LTK: Could you describe the jewelry making techniques and materials that you commonly use in your work?
Andreasen: I hand fabricate everything, starting with sheet metal and wire. I usually start with a found object I want to incorporate and work from that object. I let the object dictate the design of the piece, and I build around it. Techniques I often use are piercing, soldering, acid etching, hydraulic forming, and oxidizing.
New Life for Found Objects and Heirlooms
LTK: How does your jewelry reflects the ideas presented in your artist statement that your work retains the integrity of the piece?
Andreasen: By using found objects in my work, I am giving viewers a starting point. The objects are recognizable and often used in every home. Viewers can relate to the objects used in my jewelry and think back on their own memories revolving around those objects. Perhaps they have fond memories of visiting grandma's house and helping her polish the silver. Perhaps there was an old dresser in their home as a child and seeing the antique drawer pulls in my jewelry helps them look back on childhood memories.
LTK: Your artist statement also mentions how heirlooms reflect how "as humans, we hunger for objects that connect us to our past." Please tell our readers more about this concept.
Andreasen: All of us have these things in our lives. We keep old clothes, old books, old trinkets that remind us of someone or something special to us. It may be a specific memory associated with the object, or it may be a lifetime of memories associated with a specific individual. This idea is built into our society. When we pass an important milestone in our lives, we are given a small trinket as a reminder. Often it is hard to part with these objects, not because of any value they hold, but because of their sentimental value. We keep them near us to remind us of things we don't want to forget.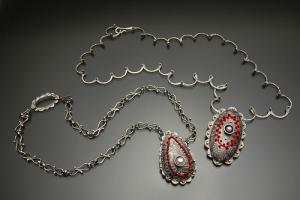 Thinking of Our Grandmothers Series
LTK: You mention using found objects in your work that are family heirlooms or have special meaning to the customer. Your artist statement describes how you reinvent these objects and create them into a new piece of meaningful art. Do you specialize in reinventing heirloom jewelry? What was the most moving or memorable heirloom jewelry project that you worked on?
Andreasen: I guess you could say I specialize in reinventing heirloom jewelry. What I do is go to junk stores, secondhand stores, and antique shops to find objects that have lost their sentimental value associated with their owners. For whatever reason, these objects, once loved and cherished in a home, have been cast away and forgotten. I take these objects and try to give them a second life, try to make them important again. Because of this process, I do not know the original owners or memories associated with the objects I use. I hope to use the objects to connect many individuals with their own specific memories associated with similar objects. I don't think I could choose one piece to be the most memorable as I devote myself entirely to each piece as I create it. Each one is special to me and a labor of love.
Jewelry as Small Sculptures
LTK: How does sculpting influence your jewelry art or vice versa? Do the same things inspire creativity for both types of art?
Andreasen: Sculpting allows me to work larger than I can in the jewelry format. It's nice to be able to use larger objects to convey the same ideas. But at the same time, I consider most of my jewelry to be small scale sculpture. It can be worn but doesn't have to be. Its purpose isn't purely based on function.
Found object art jewelry
LTK: What do you hope the wearer will experience or feel when wearing your jewelry?
Andreasen: I hope the wearer connects with the jewelry piece in some way. I hope the object they wear takes them back and reminds them of a time that has passed. I hope it can stir long forgotten memories.
Lessons from Teaching Jewelry
LTK: How has teaching metalsmithing enriched your jewelry techniques and designs?
Andreasen: They say to teach once is to learn twice. I firmly believe that. I learn so much from teaching; it is incredible. Helping students problem-solve, and seeing the way they create their pieces is a great way to learn. I enjoy making sample pieces for all the techniques I teach and perfecting them myself. I also really love teaching people a technique that they have never done before, and watching them fall in love with the process and watching them develop a new passion. I love the challenge of teaching; it's hard work but so rewarding.
For More Information on Lynette Andreasen
To learn more about Lynette Andreasen and her jewelry, please visit her official website and blog. Customers can buy jewelry from her Etsy shop. Her website also includes links to galleries where her jewelry is on sale.
LoveToKnow thanks Lynette Andreasen for the intriguing found object jewelry interview and for introducing us to her stunning designs.