LoveToKnow welcomes jewelry artist Amy Moore for the Appalachian art jewelry interview. Amy Moore designs nature art jewelry inspired by beekeeping and the natural beauty of the Appalachian Mountains.
Appalachian Art Jewelry by Amy Moore
Amy Moore of Amy Moore Designs is a jewelry artist based out of North Carolina. She creates art jewelry out of recycled materials, clay, and precious metals using traditional jewelry design techniques. She hopes people will see her jewelry as small wearable treasures that will remind them of the beauty of the natural world. Amy Moore sees her jewelry as an extension of her view of this natural world.
Wearable Sculpture Inspired by Nature
LoveToKnow (LTK): On your website, you describe your jewelry as "wearable sculpture inspired by patterns and textures in nature." How does your jewelry relate to the natural world?
Amy Moore (AM): Jewelry - and creation in general - seems to be a way for me to immerse myself further into the amazing, profound patterns found in nature. I've collected an incredible selection of fascinating pods, seeds, shells, leaves, bones, and branches that are striking in their patterns of growth: the way leaf veins resemble the tree they grow from, the perfect spirals of a seashell's form, how a snake vertebrae resembles a bird in flight. I like making a small treasure for someone to take with them to remind them of the simple beauty and intelligence all around us, which we come from.
LTK: How would you describe your specific design style and jewelry?
AM: Flowing, organic, wabi-sabi (the Japanese word for beauty in imperfection).
LTK: Your jewelry captures both the movement and texture of nature. Please describe your creative process in how you study a natural object and make it into art.
AM: My process is unintentional, in that I don't view it as separate from who I am. I'm simply drawn to integrate what I've discovered in the natural world into my work and daily life, and I've been fortunate enough to be able to pay most of the bills while getting to make things with my hands that were inspired by being outside in the garden or hiking through the mountains.
Jewelry Techniques and Materials from Nature
LTK: You work with many natural materials, found materials, and recycled materials. Could you describe some of the materials you commonly work with?
AM: Precious Metal Clay is something I started experimenting with several years ago and which has directed the form of my work ever since. It's made of recycled film negatives, from which the silver particles are extracted, then combined with clay which is then formed and shaped and fired, burning off the organic binders and leaving pure fine silver. My forms are often from something I've found on a ramble through the woods and then made into a mold to use with the clay.
LTK: What type of jewelry techniques do you generally use in design?
AM: A combination of traditional techniques - soldering, hammering, sawing, filing - in addition to a range of range of clay techniques - shaping, sanding, firing - usually occurs throughout the creation of a piece.
Honeybee Jewelry and Beekeeping
LTK: Your jewelry sales help the honeybee population, and you are a not-for-profit beekeeper. How did you become interested in beekeeping, and how does beekeeping inspire your designs?
AM: I've been curious about keeping bees for years, an interest which has intensified as I've learned more about just how crucial bees are as pollinators for a large percentage of foods we eat and how endangered they are as a species. I was given a beehive for my 40th birthday and so have been learning firsthand how beautifully efficient the matriarchal honeybee society really is. My goal is to help ensure the bees have enough food to survive while utilizing non-invasive bee-keeping practices to maintain colony health and therefore the health of our gardens and those of our neighbors within the bees' range.
Jewelry Inspired by the Appalachian Mountain
LTK: How does life in the mountains of North Carolina inspire your work?
AM: Every day my creativity is inspired by the breathtaking scenes around me: the way the mist and light change the view constantly, the cycle of the seasons that is so noticeable when surrounded by fields and forests, and my deep roots in the garden and my passion for growing and foraging for medicinal foods. And I can't forget the long history of craft in this particular region of the world - Appalachia is steeped in the traditions of the old ways of making what one needs with the natural materials available.
Amy's Favorite Jewelry
LTK: Please describe your favorite piece of jewelry that you designed. Why is it your favorite?
AM: I once made a Spirit House, which was a piece that stood on its own and could also be hung on a necklace. It was silver recycled from film negatives and which borrowed a variety of textures from the natural world: a ring of curled birch bark topped with a roof of small leaves atop a trio of willow twig legs, with a tiny silver egg inside.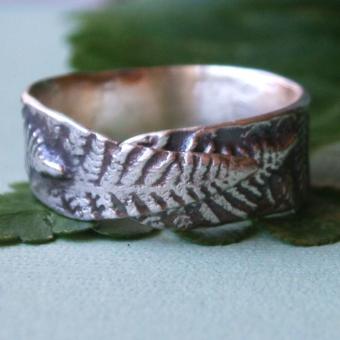 Amy's Hope for the Wearer
LTK: What do you hope people will feel when they wear your jewelry?
AM: If someone wears a piece I made, I hope that they feel a connection to some part of the natural world and the peace that comes with it. Many people have told me how my work reminds them of a place in their childhood or of some other memory that they want to keep hold of.
Future Plans for Amy Moore Designs
LTK: What are your future plans for your jewelry?
AM: With the recent launch of a wholesale line of my most requested pieces, I plan to spend more time on one-of-a-kind works, like my Spirit Houses. I'm also drawn to the world of papers and fibers, so there could be more cross-pollinating among the materials I've collected - jewelry with more sewn edges and bits of silk, and hand bound books with metal inlays or hand sculpted charms.
Learn More About Amy Moore Designs
Discover more about Amy Moore's jewelry by visiting her blog. Customers can purchase her jewelry from her Etsy Shop.
LoveToKnow thanks Amy Moore for the inspirational interview and for the insight into her beautiful creations. We wish her all the best for her future plans.