Unique Statement Necklaces
Nothing draws more attention than a statement necklace. They're large, meant to be seen, and can take a boring outfit to the next level. They're often short, but they don't have to be, as demonstrated here by model Olga Buzytskaya at the Novosibirsk Fashion Week. This longer chain features a large slice of a geode at the end, an unusual choice that could work as a conversation starter.
Wear It Long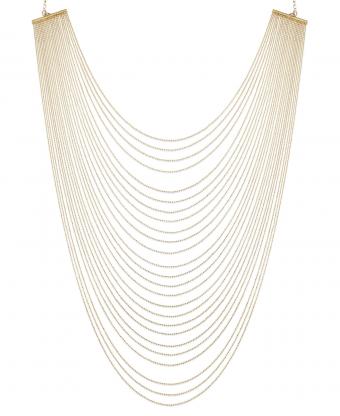 More Details"
This ABS necklace by Allen Schwartz is another example of a longer statement style, but this one has several strands working together to cover quite a bit of space, as well. Wear it with any outfit from jeans and a tee to a dress and heels and you will be sure to turn heads. Statement jewelry is both eye-catching and trendy.
Big and Bold
Go big and bold with a choker style that incorporates a few longer chains. A chunky, shorter necklace is an on-trend look that can add color to an ensemble, complement your eye makeup, and add interest to a neutral-toned outfit.
Sparkling Style
More Details"
A statement necklace like this one is a great way to dress up a rather simple outfit. Carolee shows that a bib necklace is a versatile accessory that can be worn with almost anything. No matter what you decide to pair it with, this gold-tone, multi-color bib style is certain to add sparkle and fun to your ensemble.
Freshen It Up
A statement necklace like this one from Alberta Ferretti is the perfect way to add pizzazz to an outfit. The gold tone piece peeks out from underneath an interesting neckline, so the outfit looks less busy and overdone than it would if the model had worn the necklace on top. It also fills in the space behind the shirt's low-cut neckline, which could give the illusion of her being a bit more covered up.
Exciting Accent
More Details"
Update your wardrobe with a fresh new piece of jewelry that combines edginess and femininity. Statement necklaces are good at filling this gap, as this gold-tone crystal flower necklace by Betsey Johnson demonstrates.
Let It Speak For Itself
Let a bold necklace steal the show. When you wear a piece like this one from Lanvin, there is no need for any other jewelry. If you decide to wear something with it, stick to a simple pair of studs or hoops and let the necklace speak for itself.
Flattering Appeal
Statement necklaces are not only trendy, but also flattering. They draw the attention to your neckline and can showcase your face. They can be fun to wear to show off your individuality, play up the colors in your outfit, or even play off of a lack of color in your look, such as when you're wearing your favorite little black dress. Look for interesting shapes and materials, colors you love and wear often, as well as pieces in versatile metals such as rose, yellow, or white gold.