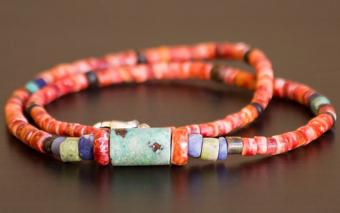 The beauty of a spiny oyster necklace with its vibrant rich colors looks wonderful with almost any type of outfit.
Designer Mosaic Necklaces with Spiny Oyster
Striking designer necklaces from Asch/Grossbardt are created using the centuries old method of inlaying tiny pieces of semi precious stones and natural materials, including highly polished spiny oyster pieces. The resulting necklaces are exquisite, often being compared to the beauty of European cathedrals stained glass windows. Jewelry artisans carefully follow the intricate pattern created by the designer as they skillfully set the tiny pieces into elegant gold or silver, creating the tiny inlaid mosaic designs.
Native American Necklaces of Spiny Oyster
Spiny oysters, with their wonderful warm colors, are often found in Native American jewelry of the Southwest. Their exquisite colors pair perfectly with the brilliance of turquoise and the shimmer of sterling silver.
Spiny Oyster Shades
The many shades of the spiny oyster includes:
Pinks
Reds
Oranges
Browns
Yellows
Purples
White
Native American Designer Pieces
Many necklaces made with spiny oysters are skillfully handcrafted by Native American jewelry designers. These exquisite pieces range from multi stranded necklaces to fetish necklaces to simple pendants.
A one of a kind Stack on Stack fetish necklace hand carved by designer Gloria Silver. Made of spiny oyster, mother of pearl, alboloney, gold lipped mother of pearl and turquoise, this 31" long necklace includes bear and fox fetishes. Hanging from this exquisite necklace is a spiny oyster shell with mother of pearl, turquoise, coral and jet inlays.
More Necklaces of Spiny Oyster
The Zuni fetish necklace hand carved by artist Neil Thomas is made from a variety of shells, and stones, including spiny oyster.
Purple turquoise and spiny oyster shell in shades of red and orange make this necklace from Amazon.com a spectacular show piece, and matching earrrings complete the set. Measuring 2 inches long, this big, beautiful pendant is inlaid with sterling silver. The earrings measure 3/4 of an inch long.
Where to Find Spiny Oyster Necklaces Online
The Internet has many websites that offer a variety of spiny oyster necklaces. The following are only a small sampling of them.
Final Thoughts
With the many beautiful and stunning styles of spiny oyster necklaces, there is sure to be one that will be a perfect addition to your jewelry collection.