Personalized Jewelry Styles to Inspire You
Personalized jewelry makes a statement that is uniquely yours. As a gift, it's one that the recipient is sure to treasure.
Types of Personalized Jewelry
When you choose a piece of jewelry for yourself or someone else, in a sense, you're selecting something that is "personalized." You choose an item based on certain colors, materials, or types of jewelry that fit you or the recipient. You can extend this personalization, however, with inscriptions, engravings, names, letters, initials, special emblems or logos.
With today's ever-expanding technology, virtually any piece of jewelry, from the conventional, like necklaces, to the unconventional, such as toe rings or other body jewelry, can be personalized.
These items are commonly personalized:
Although less common, some types of earrings can also be personalized if desired. Anklets, toe rings, body jewelry, watches, cufflinks, key rings, and money clips are available with personalization as well.
Name Jewelry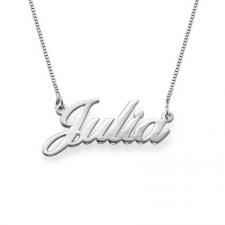 Name jewelry has long been a way to express one's personal style. Today there are hundreds of choices, whether you want something conservative or edgy:
Romantic Jewelry
Engagement rings, wedding bands, and other couples' jewelry are top sellers when it comes to personalized jewelry. Couples often want meaningful messages, such as one another's names or initials, a love sentiment, the wedding date or date they met. Popular pieces in this category include the following:
Family Jewelry
Mother's jewelry is a popular type of personalized family jewelry. Options include the following:
Sister jewelry is also common. Sisters may wear the same rings with inscriptions such as "Always Sisters," "Sisters Forever," or other meaningful phrases. Shareable necklaces, where each sister wears a half of a heart, circle, or other pendant shape on her own necklace, are also popular.
Other family jewelry includes engravable family tree pendants, family name bracelets, family photo jewelry, and family birthstone rings, necklaces, and bracelets.
Friendship Jewelry
Friendship jewelry, like sister jewelry, is often made up of two similar jewelry items or halves of a pendant or charm. Special nicknames, messages, or phrases, such as friends "Friends Forever," can be engraved in friendship jewelry. Layered friendship necklaces and customizable friendship bracelets are other ways to show your close friendship.
Shopping Resources
Price varies dramatically when it comes to personalized jewelry. A simple bead and block letter name bracelet might cost you under $20, while an engraved diamond engagement ring may cost thousands of dollars. Keep in mind that you may incur extra costs for engraving jewelry items.
You can purchase personalized jewelry from the following stores near you:
You can also shop online from stores that feature personalized jewelry selections:
Using Personalized Jewelry
You can use personalized jewelry to express yourself or show someone else you care enough about them to find or create something extra special for them. Because of the various price points, you should not have a difficult time finding personalized items for anyone on your shopping list.