Jewelry Ideas for a Black Dress
There are endless possibilities for jewelry for a black dress. From simple to elegant, there are many ideas to consider. A black dress can be dressed up or down simply through the use of jewelry. Try out different pieces to find a look that is unique for you. A statement necklace with color is one way to dress up a strapless dress.
Sparkling Understated Earrings
You don't need huge earrings to make a statement with your little black dress, even if you're hoping to use your accessories to add color to your ensemble. These stunning earrings aren't exactly studs, but they're not huge, either. Even so, their sparkle would light up any look.
Surprising Pop of Color
Elie Saab adds a pop of color with the addition of a bright blue choker. If not for the vibrant color, the piece could almost go unnoticed, but instead, it adds interest and an element of surprise. Chokers are a trendy choice that can add fresh style to your favorite LBD. A brightly colored accessory can be a fun addition to any outfit, especially a black dress.
Pearls Are Timeless
Pearls are a timeless, no-brainer option for a black dress, but perhaps you don't want to go the completely obvious route with a classic pearl necklace and stud earrings. Shake things up a bit with a pearl bracelet made from pearls of various sizes, or create your own stack from several single-strand pearl bracelets.
Black on Black
Pairing bold black dangle earrings against a black dress can make a dramatic look. Black jewelry can look chic and trendy against the black fabric of a dress. Maja Stamol demonstrated the effectiveness of this look during the Fashion Week Zagreb show with these pink and black earrings. Try this pairing for an evening out on the town.
A Diamond Bangle
Diamonds may just be a black dress' best friend, as the fabric can offer the perfect backdrop for a bit of sparkle. A simple bangle may be all you need if you're going for a less-is-more look of total elegance.
Bold Necklaces
A black dress can be turned into something spectacular by adding a bold necklace such as this one. The bold chain links and long style add interest to an otherwise blank canvas and become the star of the show. Create an eye-catching style with a bold long necklace against the backdrop of a simple dress.
Colorful and Fun
Jewelry can be fun and a little funky, too. Here, a mix of shapes and color pair up nicely with a simple black dress and matching hat. Black dresses can be turned into something fresh and exciting by adding a unique and colorful necklace.
Chunky Jewelry
Chunky gold jewelry also works to make a statement. The necklace becomes the focus of this ensemble and stands out against the scoop neckline of the dress. Add a new piece of jewelry to your collection to freshen up your wardrobe without having to replace it. Jewelry can breathe new life into a basic black dress.
Cuff Bracelets
A gold cuff bracelet could be all you need to take your outfit to the next level, especially if your dress has a fairly classic cut without too many additional details and you want a clean, sophisticated look.
Strike Conversation With Unique Pieces
This industrial necklace from Elisabetta Franchi makes a shocking statement all of its own. The bold detail of the pendant will turn any black dress into a work of art. Try a unique piece of jewelry for a black dress such as this necklace and you are sure to strike a conversation no matter where you may be going.
Matching Statements
Whether simple gold tones or something with more bling, a matching statement ring and bracelet set will look great against a black dress. If your outfit has detailing on the bodice that would make adding a necklace or a standout pair of earrings look over the top, these could be your accessories of choice.
Trendy Beaded Jewelry
Try pairing statement beads around your neck and waist to add contrast to the fabric of your black dress. This look is trendy and cutting-edge, making a basic tank style dress look fabulous.
Add a Stylish Wristwatch
While your first thought probably isn't a watch when you're trying to decide how to accessorize your black dress, keep an open mind. There are several that work as functional bracelets, looking beautiful with their gold (yellow, white, or rose) tones and sparkling stones. If you'd like to keep an eye on the time, it's much more subtle to check a watch like this than to pull your cell phone out of your clutch periodically.
Head-Turning Earrings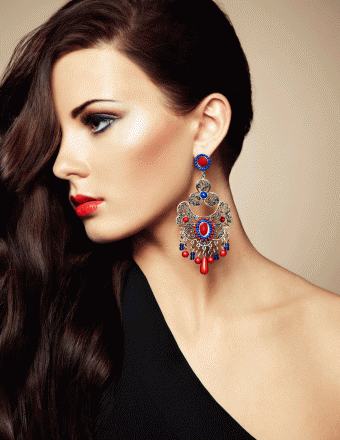 In some cases, especially those that involve a simple black dress with no embellishments and a one-shoulder cut, a pair of large chandelier earrings with hints of color on them are just what you need to complement your look. Whether you choose jewelry that is bold and glamorous, or more subtle and classic, there are many great options to pair with a black dress.