Whether you are looking for a decorative box for your treasured jewelry or something special to give as a gift, there are a variety of jewelry box styles to consider. There are plenty of stylish, practical choices to fit any budget.
Four Jewelry Boxes to Consider
As part the LoveToKnow Beauty & Fashion writing team, I had the chance to review several boxes that were provided to me by various companies and share my opinion of each in this review.
HomePointe Photo Frame Box
Key Features
This wooden, wall-mountable box is done in a rich, dark java finish. The front exterior of the box has openings to hold four 4 x 6 and four 3.5 x 3.5 photos. The inside has a soft beige lining and features silver hardware hinges. The interior of the box has nine silver hooks for hanging necklaces, four bracketed earring holders and secure ring rolls.
Pros
This style is unique in that you can display your favorite photos while keeping your jewelry items safe and secure. Once this is mounted on a wall, it looks like a high-quality picture frame. If you walk by it, you do not immediately notice that it is a jewelry box. This box works well in bedrooms, large closets and dressing areas and is elegant and well-made. It is ideal for those with little counter or dresser space.
Cons
This box is large and weighs close to six pounds. You will want to make sure that the wall where it will be hung can accommodate this weight. Keep in mind that there is no lock on this box. If you hang it where you get a lot of traffic, you may want to add one for security reasons.
Purchasing
The HomePointe Photo Frame Box is priced just under $100. It can be purchased online at Wayfair.com and will ship free.
Au Lac Designs Large Recycled Paper Box
Key Features
This unique box is made from 100 percent recycled paper and is crafted by hand by Au Lac Designs, a fair trade group in Hanoi, Vietnam. The exterior of the box features spirals made from colorful paper. The inside features a four-section top tray and a roomy bottom section. The interior is designed with purple flowers, green leaves and spirals.
Pros
The box is a good size to keep on top of a dresser or vanity, and its stunning design will be a focal point of your room. The box is sturdy and great for storing jewelry and other small trinkets. The top tray is ideal for holding earrings and bracelets while the large open bottom can accommodate larger pieces such as bangles or chunky necklaces. The box is hand-made by a fair trade group using eco-friendly materials, so it is perfect to give as a gift to someone who is eco-conscious.
Cons
Since this box is made from paper, it requires special care. Water can damage the paper surface and weaken the construction. To clean, simply wipe with a soft cloth; anything else may damage it.
Purchasing
The Large Recycled Paper Jewelry Box can be purchased at Gaiam.com. It is priced around $20. You can also find a smaller, coordinating paper box priced around $15 on the site.
Umbra Meadow Box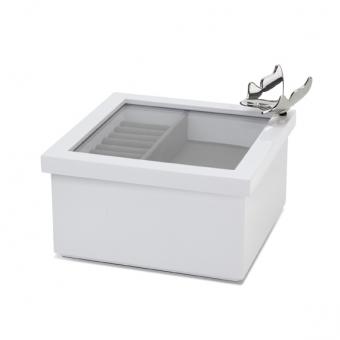 Key Features
This white, wooden jewelry storage box has a decorative butterfly accent on the corner and a see-through lid. The box features removable top compartments and an open lower compartment. It measures 8 x 8 x 5 inches and is a great size top place on top of vanities and dressers.
Pros
Meadow is ideal for those who are looking for something special to hold their jewelry and treasures. This box is beautifully designed and will be great for younger girls, teens and women of all ages. The ring holder securely holds rings in place and the other top section can be used for chain necklaces, charms and even a watch.
Cons
The top of the box is clear so your jewelry is visible to anyone who walks by it. The top lid lifts off and is not secured by a hinge. You will want be careful when opening the box and lifting off the lid and top tray.
Purchasing
The Meadow Box is priced at $30 and can be purchased online at Umbra.com.
Umbra Foresta Box
Key Features
The Foresta Collection consists of fun animal designs such as a bunny, duck and turtle. The boxes are small and made from chrome-plated cast metal. Each box has a soft lining and can hold essential items such as rings, bracelets and earrings. They can also be used for keys and other valuables. The box is done in two parts consisting of a lid and base.
Pros
These boxes are really cute and ideal for holding your frequently worn items. They can be kept on your nightstand and used at the end of the day to hold your jewelry. They are not only functional but are a great accent piece for any room. Children, teens and adults will all love the playful designs and overall look of these boxes.
Cons
Foresta Boxes are lightweight and do not secure tightly. Be careful placing items in them if they are in an area where they can be easily knocked over causing your items to fall out.
Purchasing
The Foresta Collection is priced at $20 and is available online at Umbra.com
Suit Your Needs
Before deciding on a jewelry box, consider the needs of the person who will be using it. The style of case can vary depending if the person needs a large box to secure and organize a variety of items or something small to place frequently worn pieces in at the end of the day. You will also want to choose a box that reflects the person's personal style and décor. With so many great terrific boxes on the market, it won't be hard to find one that will suit your specific needs.