Show Your Style
There are many cute belly button rings you can wear to show off your stylish navel. From different colors and gems to themed rings and fun shapes, this is a piercing to be proud of when you accessorize appropriately.
Click on the 'buy now' link at the bottom of any image to see purchasing information.
Smile!
Buy Now"
While simple belly button rings are some of the most popular, you can add a touch of cuteness with a smiley face or other classic accent.
Titanium Rings
Buy Now"
For a burst of extra cute color, consider anodized titanium belly button rings. These rings have a rich sheen of color with a playful rainbow effect, perfect for any skin tone. For even more flair, choose a belly button ring with a dangling crystal or charm in a coordinating rainbow hue.
Initial Charms
Buy Now"
Personalize your belly button ring by using a jeweled initial charm. Every letter of the alphabet is available, and both script and block fonts are popular. The barbell part of the ring can have a crystal or gem that coordinates with pave accent gems on the letter, or both can be plain metal.
Ribbon Navel Rings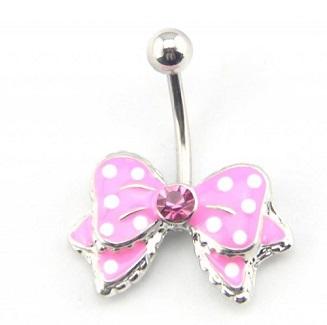 Buy Now"
A colorful ribbon is a cute accessory for your hair, and it can be a cute belly ring as well. Jeweled or enamel bows and ribbons are available in a range of colors and styles, and the decorative crystals come in a range of colors.
Holiday Belly Button Rings
Buy Now"
You can accessorize for your favorite holiday when you wear cute belly button rings in holiday motifs. Halloween, Christmas, and Fourth of July belly button rings are the most popular, or you can wear a heart ring for Valentine's Day, a cake or gift for a birthday, or a clover for St. Patrick's Day.
Sea Life Designs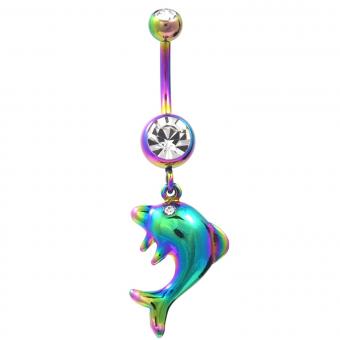 Buy Now"
The beach is the perfect place to show off your belly button ring, and there is a wide selection of marine life designs to choose from for a cute beach accessory. Crabs, sea horses, shells, dolphins, fish, flip flops, palm trees, and boats are all available, or you can go for other tropical touches with a fruity drink, sunshine, or sunglasses belly ring.
Shared Rings
Buy Now"
Sharing a set of coordinated Best Friends belly button rings is a cute gift to split with your BFF. This is an especially great choice if the two of you had your navels pierced at the same time. Different designs are available, including both solid and outline hearts as well as circular split charms.
Silicone Ring
Buy Now"
Silicone belly button rings have a lot of fun texture and can be made into cute designs such as monsters with googly eyes, rainbow spiked spheres, or quirky eyeballs. This is a great choice for a wild night out or to coordinate with a monster theme. If you have very sensitive skin, however, the spikes on the stud - even though they are soft - might cause irritation, so wear the ring carefully at first.
Starburst Navel Rings
Buy Now"
Starburst and snowflake belly button rings are cute designs that add a bit of bling to your belly. Multiple crystals in a spread-out design give this ring more visibility and sparkle and are great for special occasions. For even more glitter, consider pairing this type of larger belly button ring with a belly chain, or coordinate it with your earrings, necklace, and other jewelry.
Show Your Support
More Details"
College and professional sports teams have a wide range of authorized team logo merchandise, including belly button rings. This is a great way to show your support for your favorite team at games, pep rallies, tournaments, or other sporting events. Depending on the team, different designs are available, including stud rings and dangling charms.
Fun With Fruit
Buy Now"
A cherry belly button ring is a cute fruit with a hint of flirtatious naughtiness. Different colors and shapes of crystals or semi precious gemstones give the ring extraordinary color, and the metal can be either gold or silver to match your preferences. If a cherry isn't your kind of cute, consider apple or other fruit charms as well.
Pregnancy Navel Rings
Buy Now"
Being pregnant is a great time to show off your cute belly, and there is no better way to do it than with a baby on board belly ring. Consult your doctor before wearing navel rings when pregnant, and look for special pregnancy rings with longer shafts to accommodate your growing bump.
Need more body jewelry ideas? Check out…