Celebrate Your Birth with Jewelry
Birthstone rings can be a wonderful gift for that special someone's birthday, or they can be a personalized piece of jewelry to treasure for an anniversary, engagement ring, or promise ring. With many beautiful ring styles to choose from, it is possible to find a birthstone ring suitable for anyone's style.
Click on the 'buy now' link on the image to find retail information for any of the rings in the slideshow.
Garnet Ring
Buy Now"
Garnet is the official January birthstone and this dark red gem looks stunning set in white gold or platinum. Emerald cut gems give this ring even more sophistication.
Amethyst Rings
Buy Now"
Amethyst is a rich purple gem that is the official February birthstone. Its unique hue looks best in simple rings, but can easily be accented with diamonds for more sparkle. If amethyst isn't your style, consider an onyx ring instead - onyx is February's alternative birthstone and its rich black gleam is just as lovely.
Aquamarine Rings
Buy Now"
The official birthstone of March, aquamarine, is a beautiful light blue gem reminiscent of delicate ocean hues. Because of its light color, it is often set in silver, white gold, or platinum, and diamond accents enhance its brilliance. Take care not to use too many accents, however, or you risk diluting the aquamarine color.
Diamond Birthstone Rings
Buy Now"
Diamond is the official April birthstone, but it is easy to confuse diamond birthstone rings with engagement or wedding rings. To avoid misunderstandings - unless the ring is meant as an engagement ring - choose unique ring designs. A journey ring, for example, is the perfect option for life's journey represented by birthstones.
Emerald Rings
Buy Now"
Rich, dark emeralds are the official birthstone of May. These brilliant green gems are often used in Celtic or Claddagh designs to show their cultural and spiritual connection to Ireland, the Emerald Isle.
Pearl Rings
Buy Now"
Pearl is the birthstone of June, and while classic white or ivory pearls are always popular, more unusual shades such as gray, black, pink, and blue are also available. Pearl rings look stunning in simple solitaire designs, or they are frequently accented with diamonds for classic sparkle.
Ruby Rings
Buy Now"
July is a hot summer month that is perfectly represented by its fiery birthstone, the ruby. The rich, bright red of rubies pairs well with the warm tones of yellow gold, though many women prefer rubies in cooler, more modern platinum as well.
Peridot Rings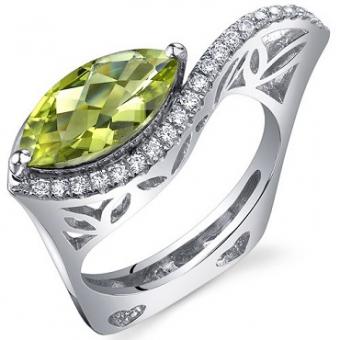 Buy Now"
Peridot is August's birthstone, and its yellow green shade is unique and distinctive. While peridot is not a traditional ring gemstone, it can be found in a variety of shapes and ring designs during the summer months when August birthstone rings are exceptionally popular.
Sapphire Rings
Buy Now"
September is sapphire month, and traditional blue sapphires are available in a wide range of ring designs, including eternity rings and heavily accented bands as well as solitaires and three stone rings. While blue sapphires are the most popular, other sapphire shades such as pink and yellow are also suitable for September birthstones.
Opal Rings
Buy Now"
The iridescent glitter of an opal is the traditional choice for October birthstones. This classic gem is usually tumbled rather than faceted, giving it a soft, rounded appearance without dulling the multi-colored glitter of the stone. Opal is also frequently used as an inlaid accent on different rings, but if you prefer a faceted gemstone, consider the October birthstone alternative, tourmaline.
Yellow Topaz Rings
Buy Now"
The autumn hue of yellow topaz is perfect as November's birthstone. A light and cheery shade, this gem can be found in both elaborate and simple ring designs. If you prefer darker gems, consider citrine - the November alternate birthstone - instead.
Tanzanite Rings
Buy Now"
While turquoise is the traditional December birthstone, the tumbled, striated blue-green stone can be difficult to find in rings other than inlaid bands or western style rings with a Native American design. If you prefer the more contemporary look of faceted gems, opt instead for December's alternate gems, tanzanite or ice blue topaz.
Multiple Birthstone Rings
Buy Now"
Rings with multiple birthstones are popular because they can be easily personalized. These can be great anniversary rings for a couple or may symbolize an entire family, perfect for a mother's ring.
If birthstone rings aren't quite right for you, take a look at these other fashion jewelry trends to see what great new looks might suit your style.