April Birthstone Jewelry for Symbolic Shine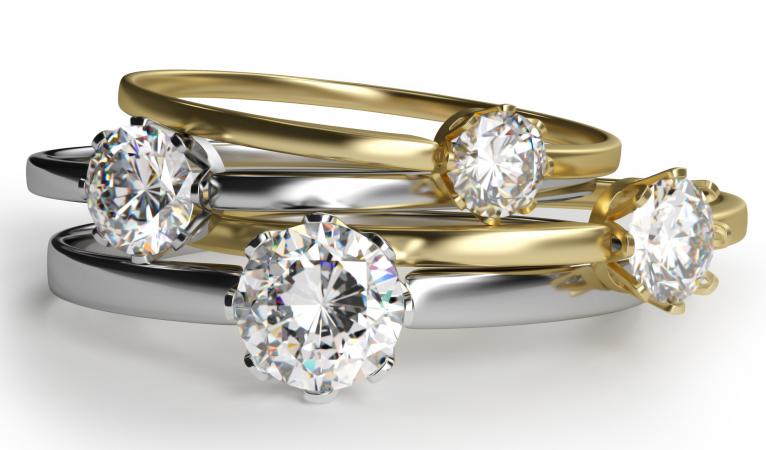 The April birthstone is diamond. Jewelry featuring a special birthstone makes a very special and thoughtful gift. Luckily there are alternatives to high cost diamonds.
April Birthstone Jewelry
Any piece of jewelry that features a diamond is perfect for someone born in April. If, however, a diamond is out of your budget then never fear! Imitation diamonds make a low cost alternative April birthstone and these are perfect for low cost gifts. Many imitation diamonds are very good quality and are hard wearing as well as containing plenty of sparkle. In addition to imitation diamonds, other alternatives include rock crystal and white sapphires.
Whether the stone chosen is a diamond or a diamond alternative, it is bound to look splendid when set in both yellow and white golds or silver. Yellow gold can bring out the sparkle of a stone, whereas the cool silver tones of white gold provide the perfect background for a pure white diamond. Silver is a lower cost alternative yet still provides a top of the range feel to a piece of jewelry. This [[Slideshow:Diamond Jewelry Necklace Images|slideshow of diamond necklaces]] provides some great inspiration.
Types of Diamond
Most people are aware of the large bright white diamonds that are seen gracing the jewelry of the rich and famous. What is not so well known, however, is the fact that diamonds come in a wide range of colors from deepest black through greens and browns to light cream diamonds. These make an interesting alternative to white diamonds and are often lower cost. Colored diamonds still retain the inner fire and sparkle of a white diamond and this makes them stand out from other colored gemstones and makes them particularly popular in rings.
Over recent years, uncut or rough diamonds have become popular as items of jewelry. These understated stones belie the fact that when cut with hundreds of facets, a precious diamond appears. Uncut or rough diamonds look like tiny pebbles, although they do have a special quality that makes them stand out from other stones.
---
A piece of jewelry with an April birthstone will be cherished for many years to come.