What Jewelry to Wear With a Brown Dress
With its warm tone and flattering dark shade, brown is a great color on many women. However, it can be challenging to figure out what type of jewelry best compliments dresses in this pretty hue. Fortunately, understanding a bit about how your jewelry interacts with the tone of your dress will make it easy to choose the perfect accessories for a polished, put-together look.
Shades of Color
At first glance, you dress may simply seem brown. However, brown can have warm or cool undertones, and these can strongly influence your options when it comes to jewelry.
Use this test to determine whether your dress is a warm brown or a cool brown:
Hold a red scarf and a blue scarf next to your brown dress. Which one really makes the brown shine?

If your dress looks gorgeous with red, it's probably a warm tone.
Conversely, if it looks great with blue, you have a cool shade of brown.
Jewelry for Cool Brown Dresses
Cool brown fabric has undertones of gray, blue, or green. You'll need to choose jewelry that works with, rather than against, these tones. Stick with silver, white gold, or platinum for metals. You can wear a pair of simple hoop earrings or a basic chain. However, if you're looking for something new, try some of these options:
Blue topaz - Add a little sparkle with the deep peacock glitter of London blue topaz. The gorgeous Queen Trio Pendant from Gemvara is a great option if your dress has an open neckline. Three beautiful, round brilliant London blue topaz gems hang from a sterling silver chain. This design would look great with formal dresses in cool brown satin or velvet, as well as more casual knit pieces. It retails for about $200.
Moonstone - With its luminous gleam and cool gray tone, moonstone is a beautiful choice for less formal looks. Pair your casual brown knit dress with a design like the Gray Moonstone Round Pendant from Blue Nile. It features a 13mm round moonstone cabochon surrounded by 26 white topaz chips and set in sterling silver, and it hangs from a simple sterling silver chain. This design retails for about $130.
Aquamarine - The cool blue glow of aquamarine is another great choice to complement a brown ensemble. If you have a complicated neckline or highly embellished dress, choose a statement ring like the Milky Aquamarine Sterling Silver Ring from Ross-Simons. The wide sterling band is set with large, faceted aquamarine side stones and gorgeous sparkling aquamarine center gems. It comes in sizes five through ten and retails for just under $90.
Smoky quartz - With its gray-brown gleam, smoky quartz is ideal for an elegant tone-on-tone look with a cool brown dress. Pair it with white gold, as in the Saturn Bangle from Gemvara. This simple design features a row of round-cut smoky quartz set in a narrow bangle bracelet. This is a great option if your dress has a complicated neckline or lots of embellishment, but it would also look beautiful with a simple gown. It retails for $1,350.
Jade - For a more casual look, choose the cool beauty of jade jewelry. A carved jade bracelet, such as the Green Jade Slip-On Bangle from Ross-Simons, will be the perfect complement to a brown sweater dress, jersey knit sundress, poplin shirtdress, or other daytime look. This simple half-inch-wide bracelet retails for $135.
Jewelry for Warm Brown Dresses
Warm browns have undertones of red, orange, yellow, and pink, and they look fantastic with jewelry that mirrors these tones. Choose hoop earrings, simple chains, and other metals in yellow gold, rose gold, and copper tones. Because it is warmer than other white metals, white gold can also work when set with warm-toned gems. Consider some of the following:
Peridot - With its fresh yellow-green sparkle, peridot looks spectacular with warm tones of brown. Choose a statement piece like the Peridot and Diamond Pendant from Blue Nile. At 8mm by 10mm, this faceted oval peridot will turn heads. Its halo of diamond chips and 14k white gold setting only add to its beauty. This design would look gorgeous for an evening out, especially if your dress has a simple, low neckline. It retails for $1,050.
Rose quartz - If you want to add a touch of romance to your brown dress, choose rose quartz. This affordable, semi-precious stone is a gorgeous shade of pale pink, and it looks lovely with brown. Try a design like the Rose Quartz and Sterling Silver Drop Earrings from Ross-Simons. They feature faceted, pear-shaped rose quartz gems topped by 0.33 carats of cubic zirconia and set in sterling silver. These earrings would look great with a casual or semi-formal dress, and they retail for about $40.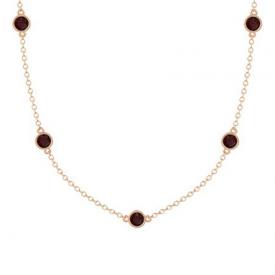 Garnet - The deep red tones of garnet jewelry are ideal for enhancing the beauty of a warm-toned brown dress. If you have a simple neckline and minimal embellishment on your dress, choose a long chain and gem piece like Gemvara's Gemstones By the Yard Five-Stone Necklace. This pretty design features five round brilliant garnets set in rose gold. It exudes warmth and would look stunning with a simple warm brown satin gown. It retails for $525.
Fire opal - If you want jewelry that will really stand out against the backdrop of your brown dress, consider a piece with fire opal. A fire opal ring, such as the Le Vian Fire Opal and Chocolate Diamond Ring from Jared, allows you to wear your jewelry with any neckline. Its beautiful orange-red 6mm cushion-cut fire opal shines in strawberry gold and is accented with 1/5 carat white and chocolate diamonds. The ring is available in sizes up to eight and retails for about $1,100.
Citrine - Citrine is all about warmth, and it comes in a variety of shades from pale honey yellow to deep port wine orange. These beautiful Madeira Citrine, Citrine, and Garnet Earrings from Blue Nile would look stunning with any warm brown dress, especially one on the formal side. In this stunning 14k white gold design, a pear-shaped garnet tops an oval orange-toned citrine and a pear-shaped golden citrine. These earrings retail for about $300.
Jewelry for Warm or Cool Browns
If you don't know the tone of your brown dress or you want some pieces you can wear with both warm and cool tones, consider some of the following:
Pearls - Earrings, pendants, rings, and other pearl jewelry will work well with any shade of brown. For major impact, consider a strand of pearls. This Cultured Pearl Necklace from Jared is 18 inches long and features luminous 6.5mm white pearls and a 14k yellow gold clasp. It retails for about $1,700.
Mixed metals - Mixing warm and cool metal tones allows you to wear your jewelry with any brown dress. Consider a statement piece like the Kenneth Cole New York Metal Mix Necklace from Amazon. It features gold- and silver-toned geometric tags for a head-turning, wear-with-anything style. This design retails for about $70.
Diamonds - When set in white gold, diamonds are equally beautiful with warm and cool browns. The White Gold and Diamond Bracelet from Jared features 1.75 total carats of round bezel-set diamonds in a simple 14k white gold design. This delicate bracelet would look lovely with a simple brown chiffon gown. It retails for about $2,900.
Tips for Choosing Your Jewelry
As you consider what to wear with your dress, keep the following tips in mind:
Take a look at the neckline of your gown. If it's strapless or has an open neckline, you can wear a necklace. If it's a one-shoulder design or has a high neck, opt of a bracelet or earrings.
Keep the jewelry simple if the dress is elaborate. If your brown dress has sequins, beading, lace, or other embellishments, choose simple gold or silver jewelry to keep the focus on your gown.
Consider the formality level of your dress. If you're wearing a brown knit sundress, stay with casual jewelry like simple chains, bangles, and semi-precious gems. If you are wearing an evening gown, look for pieces with a little glitter.
Enhance the Beauty of Your Dress
Brown is a lovely color that looks great on many people. You can enhance the beauty of your dress by choosing the appropriate jewelry to go with it. From pearl necklaces to peridot earrings, there is a piece to make you look your best.